---
Audubon & the Smithsonian

A Smithsonian Institution Libraries Exhibition, 1997 - 1998
---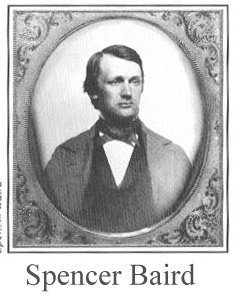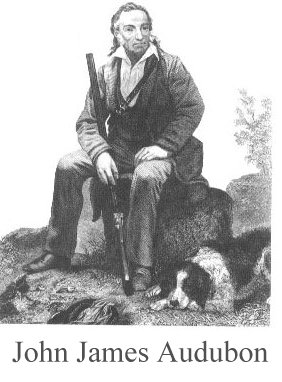 Audubon & the Smithsonian features the work of John James Audubon (1785-1851), the artist-naturalist whose dynamic pictures of North American birds and animals represented both new species and new artistic forms. His images, publications, and countless reproductions of his work have appealed to audiences for more than 160 years.

Drawn together by the Smithsonian Institution Libraries, these objects illuminate the larger story of Audubon beyond his artistic accomplishment. They represent the impact of Audubon's life and his enduring influence. Audubon recognized the potential threats to the wildlife he studied, and today the Audubon name symbolizes the protection of birds and the natural environment through the work of national and regional Audubon societies.

Best known for his powerful artistic imagery, Audubon also left his mark on science, publishing, and the Smithsonian. His friendship with the young naturalist Spencer Baird, hired in 1850 by the Smithsonian, led to continuing connections between the Audubon family and the Institution and to the acquisition of significant specimens. Smithsonian libraries, museums, and archives to this day are enriched by the variety of Audubon's remarkable achievements.



Audubon's Publications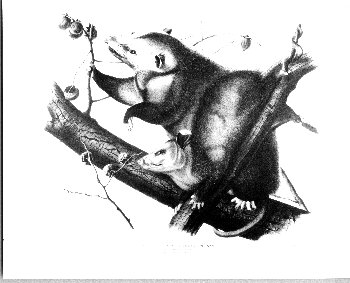 About 1820 Audubon decided to make a comprehensive study of North American birds. He traveled widely in the American South, drawing every known species and adding new ones. His large, life-sized watercolors represented both artistic innovations and scientific contributions, but he had to go abroad to find subscribers to support his publication.
Audubon's major work, The Birds of America, was published in several editions. Beginning in 1827 a large folio of engravings was produced in England, followed by smaller, more popular editions-including both text and illustrations-that appeared in the United States into the 1870s. His study of mammals, The Viviparous Quadrupeds of North America, completed by his sons and long-time collaborator John Bachman, also was produced in two sizes and several editions between 1845 and 1854.
Reviewers credited Audubon with creating an American audience for natural history. His engaging narrative style, together with his glorious pictures, made the subject accessible as both art and science to a wide following. Audubon's work probably is best known through its many reproductions, which have extended his reputation to new generations.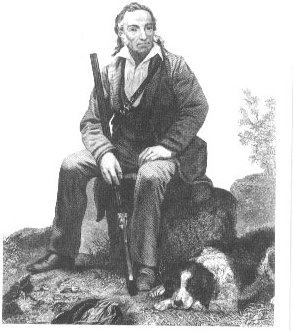 Chronology of Audubon's life
1785
John James Audubon born in Santo Domingo (now Haiti)
1788
sent to France to be educated by his father's family
1803
arrived in Pennsylvania to manage his father's land
1805
returned briefly to France
1806
settled permanently in the United States
1808
married Lucy Bakewell and moved to Kentucky
1820-24
employed as a taxidermist, portrait painter, and drawing teacher
in Ohio and Louisiana while preparing his watercolors of North American birds
1826
sailed for England to seek support for his publication
1827
began publication of The Birds of America in England as large folio of engravings, completed in 1838
1840
began publication of smaller octavo edition in the U. S., including both plates and text
1843
traveled up the Missouri River, sketching for quadrupeds project
1845
published the first volume on mammals, The Viviparous Quadrupeds of North America, completed by Audubon's sons, John Woodhouse and Victor, with John Bachman
1848
in declining health
1851
Audubon died at his home near New York City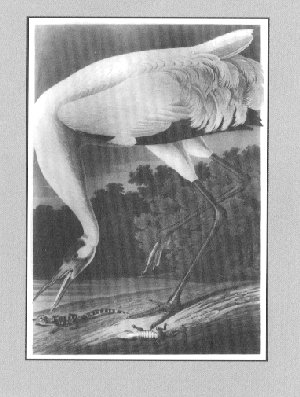 A Smithsonian Institution Libraries Exhibition
Guest Curator: Helena E. Wright
National Museum of American History
Designed, edited, and produced by the
Smithsonian Office of Exhibits Central
Photography courtesy Smithsonian Office of Imaging,
Printing, and Photographic Services
This exhibition has been supported in part by the
Smithsonian Special Exhibition Fund and
the National Audubon Society
Suggestions for further reading
Annette Blaugrund and Theodore E. Stebbins, Jr., eds. John James Audubon: The Watercolors for THE BIRDS OF AMERICA (New York, 1993)
Ann Shelby Blum, Picturing Nature: American 19th-century Zoological Illustration (Princeton, 1993)
Alice Ford, John James Audubon: A Biography (New York, 1988)
For young readers
Peter and Connie Roop, eds, Capturing Nature: The Writings and Art of John James Audubon (New York, 1993)
---
Smithsonian Institution Libraries
Exhibition Gallery
National Museum of American History
14th Street and Constitution Avenue NW
Washington, DC
The museum is open daily
10am - 5:30pm (except December 25)
For inquiries call Smithsonian Information
Monday - Friday 9am - 5pm,
weekends 10am - 4pm
202-357-2700 (voice), 202-357-1729 (TTY)
202-357-2020 (recording in English)
202-633-9126 (en Espaņol)
---
---
Last Updated: July 11, 1997
KSR