Science and the Artist's Book
An exhibition by the Smithsonian Institution Libraries and the Washington Project for the Arts
---
Engineering
---
Herald of Science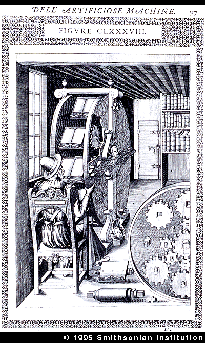 Download full-size JPEG (799K) or GIF (189K) image.
Agostino Ramelli
Le diverse et artificiose machine del Capitano Agostino Ramelli [The various and ingenious machines of Captain Agostino Ramelli]
Paris, 1588
Ramelli, a military engineer of the Italian Renaissance, wrote this picture book of marvelous and mostly imaginary machines for the French royal court. His intricate and rather whimsical creations present complex mechanical solutions for commonplace problems. Shown here is his plan for a revolving table, built like a ferris wheel, to enable busy scholars and persons with impaired mobility (Ramelli specified persons with gout) to consult several books easily in one place.
---

Artist's Book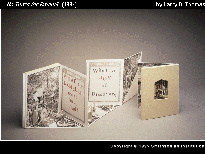 Download full-size JPEG (197K) or GIF (158K) image.
Larry B. Thomas
No Tears for Ramelli
Atlanta, Georgia, 1994
[photocopies, rubber stamping, paper]
No Tears for Ramelli invites you to invent your own story. Larry B. Thomas delights in creating books that amuse and disturb his viewers through a sense of irony. The various machines pictured in Agostino Ramelli's 16th-century book offer Thomas plenty of visual material for constructing his own mysterious fantasies.
---
Herald of Science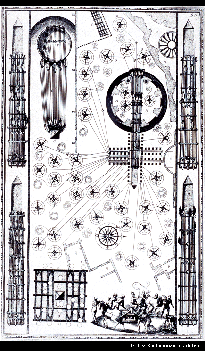 Download full-size JPEG (593K) or GIF (478K) image.
Domenico Fontana
Della trasportatione dell' obelisco vaticano [On the transportation of the Vatican obelisk]
Rome, 1590
In 1586, Pope Sixtus V asked the Italian architect and engineer Domenico Fontana to move an Egyptian stone obelisk, standing over 25 meters (83 feet) tall and weighing 326 metric tons (360 tons), to St. Peter's Basilica in the Vatican from a site nearly a quarter of a mile away. One of the great engineering feats of the age, this enterprise required a vast network of men, horses, ropes, and equipment to lower the obelisk and move it safely to its new location.
---

Artist's Book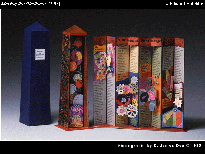 Download full-size JPEG (247K) or GIF (141K) image.
Edward Hutchins
Moving the Obstinate
Cairo, New York, 1995
[museum board, book cloth, paper, wire, cord]
However laborious it is to move an object as massive as the Vatican obelisk, Edward Hutchins believes it can be more difficult to change someone's mind. Fontana moved the obelisk with ingenious mechanics and hard labor, but to change a person's mind Hutchins subtly attempts to alter mental mechanisms, prejudices, and old habits.
---