Science and the Artist's Book
An exhibition by the Smithsonian Institution Libraries and the Washington Project for the Arts
---
Technology
---
Herald of Science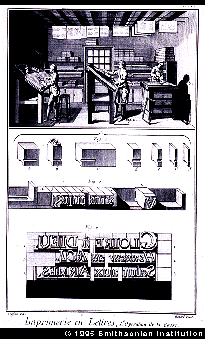 Download full-size JPEG (508K) or GIF (122K) image.
Denis Diderot and Jean le Rond d'Alembert
Encyclopédie, ou dictionnaire raisonné des sciences, des arts et des métiers [Encyclopedia, or descriptive dictionary of the sciences, arts and crafts]
Paris, 1751-1780
This illustration from Diderot's Encyclopédie shows a compositor setting type in a printing shop, with diagrams of the tools used. The encyclopedia has ancient roots as a comprehensive way to organize knowledge. The 18th-century Enlightenment was the golden age of the encyclopedia, because of the efforts of Diderot and others to write articles on all significant political, social, cultural and scientific topics.
---

Artist's Book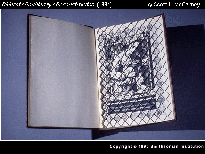 Download full-size JPEG (266K) or GIF (179K) image.
Scott L. McCarney
Diderot / Doubleday / Deconstruction
Rochester, New York, 1994
[altered book, laser prints]
Scott L. McCarney crafts a book sculpture by carving into the pages of a discarded 20th-century encyclopedia volume. He copies the image of his 18th-century counterpart, the compositor setting type, by using the updated technology of computer-scanning and laser-printing.
---