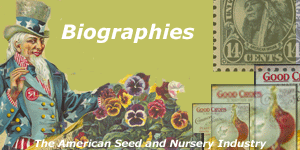 Biographies of American Seedsmen & Nurserymen
Compiled by
Marca L. Woodhams, Librarian
Horticulture Branch Library
Smithsonian Institution Libraries
December 1999


One hundred individual biographies covering the careers of commercial nurserymen who established and expanded the American seed and plant sales industry starting in the 1800s. Listings' lengths vary from four to forty lines with an emphasis on horticultural sales or product innovations. Each biography includes abbreviated citations with links to sources.