Freedom of Information Recent works on paper by James Wechsler
December 15, 2006 through March 16, 2007
Smithsonian American Art Museum/National Portrait Gallery Library
Victor Building
Room 2100
750 9th St., NW
Washington, DC
More information
As an artist and art historian I rely a great deal on archival material. The works in this series developed out of my research on modernism and the international Left during my postdoctoral fellowship at SAAM in 2005-2006.
Each piece is based on an actual document from the FBI's Cold War era files on artists, performers, writers, civil rights activists, and the politically radical organizations they were affiliated with. Since their sources were so heavily redacted, the resulting works confound the conventional notions of portraiture - concealing rather than revealing identity - and history painting - frustrating instead of furthering our attempts to interpret the past.
Beyond their explicit commentary on censorship and the culture of surveillance, by concentrating on what has been blocked from view, the paintings evoke deeper psychological and existential questions about perception, collective memory, and the construction of meaning from fragmentary, self-negating, and otherwise indecipherable information.
Image above right:
James Wechsler
Freedom of Information: Alice Neel, 2.45, 2006
Acrylic and ink on paper
39" x 28 ½"
CLOSED
Picturing Words: The Power of Book Illustration
Smithsonian Institution Libraries Exhibition Gallery
National Museum of American History, Behring Center
12th & Constitution Ave. NW
Washington, DC.
National Museum of American History curators Helena Wright and Joan Boudreau created the panel exhibit for the Smithsonian Institution Libraries. It showcases reproductions of some of the world's greatest pieces of illustration from the Libraries' collection of rare books and documents. Through historic illustrations, viewers of the exhibit are able to see what inspires and drives graphic art. Andreas Vesalius, an early physician and progressive scientist, wrote the book "De Humani Corporis Fabrica" (1543) with illustrations of the human body showing muscles pulled back to see what was underneath. The illustrations of Vesalius changed the way people looked at the human form and helped develop modern medicine. Letters have been shown to be inspiration for some writers, as seen through the graphic images from children's alphabet books; and pictures drawn with a calligraphic style add a degree of artistry to poems about birds in Armand Monjo's "Tu l'as vu l'oiseau?" (1993). The labor-intensive engraving process is shown through meticulously rendered illustrations, such as "The Wood Beyond the World" by William Morris (1894), giving the viewer an appreciation for the thought, time and effort that went into his work.
Individual panels of the exhibit vividly demonstrate how illustrations catch readers' eyes, draw them into their reading material and make a more direct connection to the information. A website featuring the exhibit may be viewed at www.sil.si.edu/exhibitions/PicturingWords.

---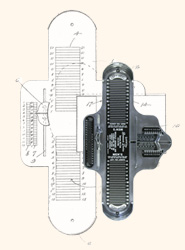 Doodles, Drafts and Designs: Industrial Drawings from the Smithsonian
A Traveling Exhibition organized for travel by the Smithsonian Institution Traveling Exhibition Service. Click here for the tour schedule.
This exhibition presents examples of industrial drawings in the collections of the National Museum of American History and the Smithsonian Institution Libraries. Some are working drawings, ideas sketched in pencil or ink. Others are more finished, designed for presentation. A few are printed, either as sales material or as part of a patent application. They visually document American industrial creativity, from inventor's hand and investor's boardroom, to patent office, factory floor, and manufacturer's showroom.

As you look at these drawings and printed documents, think about their aesthetic merit and the ways they reflect the skills and knowledge of their creators. But also consider their purpose. These drawings capture on paper key aspects of technological and industrial process. They document thought, organization, work, and production.
---
Smithsonian Libraries on Display: From Horses to Horsepower: Studebaker Helped Move a Nation
February 24, 2005 - August 2005
Library Hall, National Museum of Natural History
This exhibition is available to the public exclusively online, click here to visit the exhibition.
Studebaker's long standing commitment to quality and value made it one of the automotive giants prior to the Great Depression, often being among the first manufacturers to introduce new technology or safety features, such as four-wheel hydraulic brakes in 1925. Barely surviving the 1930s, Studebaker resumed its innovative heritage with some of the first new designs to follow World War II. Postwar Studebaker automobiles, largely due to their association with Raymond Loewy, are still considered to be classics of modern industrial design. Both functional and elegant, Studebaker's are highly prized by car collectors and enthusiasts throughout the United States. In addition to a national museum devoted to Studebaker in South Bend, Indiana, the national chapter of the Studebaker Drivers Club includes more than 13,000 members of Studebaker owners and admirers.
Curator: Kent C. Boese, Smithsonian Institution Libraries
To preview the exhibition, please visit:
http://www.sil.si.edu/ondisplay/studebaker/