Goal:
Students document how light source, object, and distance affect the shadow's shape by making silhouettes
Grade Level:
4-6
Objectives:
Create silhouette by directing light source at a person
Change light, distance from object, angle, and/or shape and note differences to the shadow
Describe the relationship of the person, the light source, and the silhouette

Subject Area or Standard:
Science, Measurement and Art
Materials Needed:
Movable light source (lamp, flash light, etc.)
Large pieces of paper that can be mounted on wall
Rulers or tape measures
Markers, pencils

Websites:
http://www.candidcolors.com/shadowprojectindex.htm
http://www.intl-light.com/handbook/ch05.html
http://library.thinkquest.org/11924/lightwhat.html?tqskip1=1&tqtime=0709
http://www.nineplanets.org/sol.html

Resources:
http://www.phys.ksu.edu/gene/shadow.gif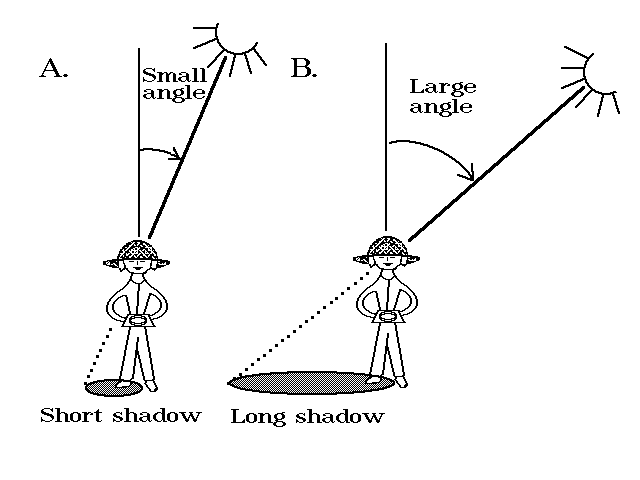 Procedures:
1. Tape paper to wall.
2. Set up light source and angle so that it is shining toward one of the sheets of paper.
3. Place person between light source and paper and note distance that object is from light source.
4. Draw around person's shadow the paper, creating a silhouette.
5. Move the light source or the object, note the distance, and draw a second silhouette.
6. Compare the size of the silhouettes when the person stood at different distances.
7. What happens to the size when the distance is increased? When it is decreased?
8. Does the shape of the silhouette itself change?
Alternatives:
This is similar to the activities in this series' Lesson Plan Three. See the alternative activities in Lesson Plan Three.