INNOVATORS GALLERY
Earl Silas Tupper (1907-1983)
Born: Leominster, Massachusetts or New Hampshire (?)
Inventor/Businessman

Raised on a farm, Tupper built devices that made work around the family's farm and greenhouses easier. He even earned a patent for a frame used to help clean chickens. Tupper also showed a talent for entrepreneurship: at the age of 10, he figured out how to increase his family's income by selling produce door-to-door, thereby bringing the product directly to the customer.

After high school graduation in 1925, Tupper left the family farm and worked as a mail clerk and on a railroad crew, and ran a successful landscaping and nursery business. Whatever the job at hand, Tupper continued to fill notebooks with scientific inquiries, experiments, and inventions.

In 1937, Tupper worked for the plastic manufacturing division of DuPont for one year, and took the experience he had gained in plastics design and manufacturing, and struck out on his own, forming the Earl S. Tupper Co., in 1938.

During World War II, Tupper molded parts for gas masks and Navy signal lamps.

After the war, Tupper decided to develop plastics for the growing consumer market. This was a challenge, however. Plastic products had a reputation for being brittle, greasy, smelly, and generally unreliable. By a two-step process of invention, Tupper created one of the most practical kitchen items to date: the airtight plastic food container called Tupperware. First, he developed a method for purifying black polyethylene slag, a waste product produced in oil refinement, into a substance that was flexible, tough, non-porous, non-greasy, and translucent. Second, he developed the Tupper seal, an airtight, watertight lid. Together, these innovations laid the foundations for the future success of Tupperware.

In the late 1940s, Thomas Damigella (in Massachusetts) and Brownie Wise (in Florida) were selling household products through Stanley Home Products. Purchasing through local plastics distributors, both began offering Tupperware as part of their product line, and were moving enough Tupperware to attract Tupper's attention.

In 1948, Tupper met with Damigella, Wise, and several others to discuss a new distribution plan. Modeled on the home party plan pioneered by Stanley Home Products and expanded and refined by Wise, Tupperware Home Parties became and remain the exclusive outlet for Tupperware.

Objects: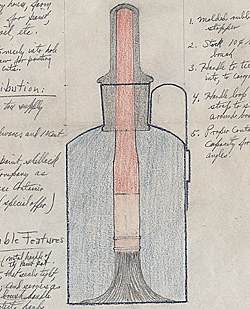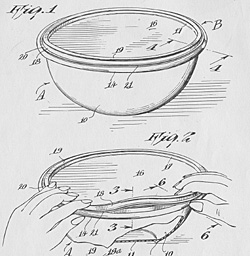 Compiled from the following sources:
-http://web.mit.edu/invent/iow/tupper.html