Science and the Artist's Book
An exhibition by the Smithsonian Institution Libraries and the Washington Project for the Arts
---
Scientific Methodology
---

Herald of Science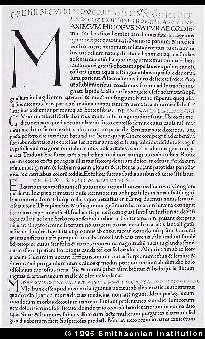 Download full-size JPEG (557K) or GIF (168K) image.
Pliny the Elder
Historia naturalis [Natural history]
Venice, 1469
In his Natural History, Pliny wrote comprehensively about the world that the Romans knew, emphasizing geographical details and natural history. He had traveled widely through the Roman Empire as an army officer, acquiring a wealth of information about many lands and peoples. This first printed version, designed to resemble a decorated medieval manuscript, was published 1,400 years after Pliny wrote it.
---

Artist's Book

Download full-size JPEG (332K) or GIF (171K) image.
M.L. Van Nice
Plinitude
Somerville, Massachusetts, 1994
[seeds, bones, insect wings, feathers, wood, leather, paper, acrylic]
"In and around and under Pliny's writing and scholarship lies the natural world," writes M.L. Van Nice. This artist favors an intuitive approach to learning rather than Pliny's structured encyclopedia format. Fascinated with her own inability to read the original text, Van Nice creates an imaginative but unreadable script, drawing elements from the natural world into the artist's book.
---

Herald of Science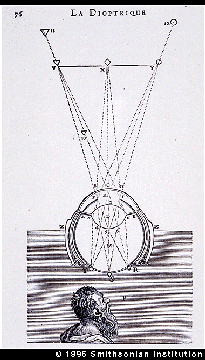 Download full-size JPEG (355K) or GIF (158K) image.
René Descartes
Discours de la méthode pour bien conduire sa raison et chercher la vérité dans les sciences [Discourse on a method for guiding reason, and discovering truth in the sciences]
Leiden, The Netherlands, 1637
The French philosopher and mathematician René Descartes challenged old ways of thinking about science. Descartes, for whom the Cartesian system of philosophy is named, argued that doubt and reason are both necessary for determining truth, and that the world and everything in it operates according to mechanical principles. His Discourse ends with essays on optics, meteorology, and analytic geometry, in which Descartes puts his methods to work.
---

Artist's Book

Download full-size JPEG (220K) or GIF (143K) image.
Judith Mohns and François Deschamps
Cartesian Dreams
New Paltz, New York, 1994
[photo-silkscreen, paper]
In Cartesian Dreams, named for Descartes's system of philosophy, Judith Mohns and François Deschamps pay homage to the thinker. While recognizing his analytical genius, they allude to Descartes's dreams and his personal life, seeking "to balance the Cartesian [analytical] with the intuitive."
---