Welcome!
Throughout time, explorers have drawn readers to faraway places through stories and songs, maps and drawings, manuscripts and books. Their intriguing accounts of the new and unknown have brought the world closer to those left at home.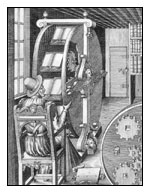 An Odyssey in Print invites you to see the universe through the eyes of these courageous travelers, to share the curiosity of scientists who pursue knowledge from the Earth below to the heavens above, and to enjoy the creative endeavors of artists, writers, and artisans. As you explore six centuries of rare books, manuscripts, art, and artifacts from the Smithsonian Institution, you'll learn how Smithsonian staff use these resources in their everyday work.
The Libraries will display different books in the Smithsonian Institution Libraries Gallery throughout the next 18 months. Changes in the exhibition are scheduled for November 2002, and May 2003. The Web site, however, will contain all of the books that visitors will be able to see in the Smithsonian Institution Libraries Gallery, with the addition of a few bonus page views that will only be available online. Look for these icons as the indicator for the occurrence of the books in the Smithsonian Institution Libraries Gallery:


indicates Part 1 of the Gallery Exhibition


indicates Part 2 of the Gallery Exhibition


indicates Part 3 of the Gallery Exhibition.
Smithsonian Institution Libraries
The Smithsonian Institution Libraries forms a vital part of the research, exhibition, and educational endeavors of the world's largest museum complex. Consisting of 20 libraries supported by an on-line catalog of the combined collections, the Libraries acts as both academic and public library, as scholarly resource and general information service.
The Libraries offers its treasures, and the help of informed staff, to Smithsonian employees, outside scholars, and visitors via on-site access to the collections, a public website, and a rich and varied schedule of book exhibitions, lectures, special events, and tours.
Anacostia Museum & Center for African American History and Culture Library

Anthropology Library

Botany and Horticulture Library

Cooper-Hewitt, National Design Museum Library

The Dibner Library of the History of Science and Technology

Freer Gallery of Art and Arthur M. Sackler Gallery Library

Hirshhorn Museum and Sculpture Garden Library

Joseph F. Cullman 3rd Library of Natural History

Museums Information Library

Museum Support Center Library

National Air and Space Museum Library

National Museum of American History Library

National Museum of the American Indian Library

National Museum of Natural History Library

National Postal Museum Library

National Zoological Park Library

Smithsonian American Art Museum / National Portrait Gallery Library

Smithsonian Environmental Research Center Library

Smithsonian Tropical Research Institute Library

Warren M. Robbins Library, National Museum of African Art