Albert Russel Erskine (1871-1933)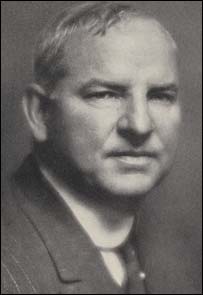 Erskine was born 24 January, 1871, in Hunstville, Alabama. After holding positions with the American Cotton Co. (1898-1904), Yale & Towne Manufacturing Co. (1904-1910), and Underwood Typewriter Co. (1910-1911), Erskine joined the staff of the Studebaker Corporation in South Bend in 1911. In 1915 he became its president.
Under his leadership, Studebaker enjoyed high levels of sales and profits. He pursued a broadly conceived plan to make Studebaker one of the industry giants during the 1920s. However, when sales slumped in 1929 and 1930, he was slow to cut Studebaker's managerial costs and profit sharing. As such, both he and Studebaker closely followed the downward course of the national economy. As a result, Studebaker found itself short of cash to meet immediate obligations. With banks unwilling to lend more funds, Studebaker was placed into receivership in March 1933.
Seemingly left with no other options, Erskine shot himself through the heart on 1 July, 1933, at the age of 62.
Sources:

May, George S., ed. The Automobile Industry, 1920-1980. New York: Facts On File, 1989.

Thompson, Donald E. Indiana Authors and Their Books, 1967-1980. Crawfordsville, Ind.: Wabash College, 1981.

Raymond Loewy (1893-1986)
Loewy was born 5 November, 1893, in Paris, France, where he grew up. He studied at the Université de Paris from 1910, served in the French Corps of Engineers from 1914 to 1918, and was awarded the Croix de Guerre four times. He received an engineering degree from the École de Laneau in 1918.
In 1929 Loewy opened his own design office with the advent of his first industrial design commission, the housing for the Gestetner duplicating machine. His designs would ultimately revolutionize the industry. Working as a consultant for more than 200 firms, he created product designs for everything from cigarette packs and refrigerators, to cars and spacecrafts. His legacy includes such notable creations as the Lucky Strike cigarette package, the GG1 and S1 locomotives, the slenderized Coca-Cola bottle, and the Studebaker Avanti, Champion and Starliner.
Following the second world war, Loewy's designs became simpler, incorporating long, flowing arcs. These streamlined features were exemplified by Loewy's Studebaker "Champion" car of 1947, the first postwar automobile produced in the United States. From 1967 to 1973, Loewy was hired as a consultant by NASA to study habitability for the Saturn-Apollo and Skylab projects.
After a period of poor health, Loewy died in Monte Carlo, Monaco, on 14 July, 1986, at the age of 92.
Sources:

Estate of Raymond Loewy. "Biography." In Raymond Loewy: The Father of Industrial Design [Web site], available at: http://www.raymondloewy.com/about/bio.html

Garraty, John A. and Mark C. Carnes, eds. American National Biography. Vol. 13. New York: Oxford University Press, 1999.

Clement Studebaker (1831-1901)
Clement was born 12 March, 1831, in Pinetown, Pennsylvania. His early education was sporadic at best. By the age of 14, he was working in his father's blacksmith shop, where he shoed horses and occasionally built Conestoga-type wagons. When nearly 20, he moved in the autumn of 1850 to South Bend, Indiana. Saving money from working as a teacher and a blacksmith, he set up his own blacksmith business with his older brother Henry in 1852.
The company continued to prosper, largely due to contracts to supply wagons to the Army both in 1857 and during the Civil War. Being raised in the Dunker faith, Henry found it difficult to reconcile his pacifistic beliefs with providing supplies to soldiers. He eventually sold his share of the company to brother John Mohler.
Clement continued to build the business into a company that would boast it was the largest horse-drawn vehicle manufacturer in the world. In addition to wagons, buggies and carriages were produced by the company and considered to be among the finest built in the country. By 1870, there were four Studebaker brothers heading various departments of the company, with Clement as its president. The company produced no fewer than thirty types of horse-drawn vehicles and had annual sales of more than $3 million by the 1890s.
In May 1901, Clement traveled to the spa at Aix-les-Bains in southern France to recuperate from poor health. He remained until autumn. Upon his return to the United States, he stumbled disembarking from the ship, from which he did not recover. He died at his home in South Bend on 27 November, 1901.
Sources:

Crystal, David, ed. The Cambridge Biographical Encyclopedia. 2d ed. Cambridge: Cambridge University Press, 1998.

Garraty, John A. and Mark C. Carnes, eds. American National Biography. Vol. 21. New York: Oxford University Press, 1999.

John Mohler Studebaker (1833-1917)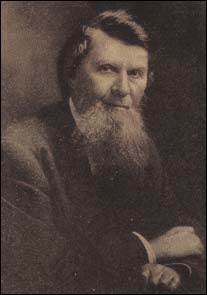 John Mohler was born 10 October, 1833, in Adams County, Pennsylvania. He grew up in a strict religious family that included ten children who lived past infancy. Attending school only when he could be spared from farm work, he was not an attentive student and preferred work over school.
In the winter of 1852/3, the 19 year old John Mohler decided he would find his fortune in the gold fields of California. However, losing most of his money to gamblers in Missouri, he arrived in California with only 50 cents to his name. Rather than head for the gold fields, Studebaker accepted a job with a local blacksmith making wheelbarrows, where he soon became a partner. He returned to South Bend five years later with $10,000, which he used to buy out his brother Henry's interest in the H. & C. Studebaker wagonmaking company.
Whereas Clement handled the company's financial matters, John Mohler took charge of manufacturing. Upon the death of Clement in 1901, J.M. assumed the presidency of the corporation. Unlike Clement, who had been hesitant about entering the automobile market, J.M. embraced it. He led the company into electric vehicles and then into gasoline-powered vehicles through joint ventures with Garford Manufacturing Company and the Everitt, Metzger, and Flanders Company, with which it later merged.
His decision to embrace the automobile industry proved to be a good one, as sales increased from $3.6 million in 1901 to $43.4 million in 1914. J.M. retired from the corporation in 1915. He died in South Bend on 16 March, 1917.
Source:

Garraty, John A. and Mark C. Carnes, eds. American National Biography. Vol. 21. New York: Oxford University Press, 1999.