FURTHER READING / BIBLIOGRAPHY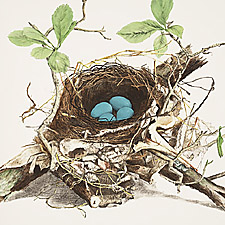 Haverstock, Mary Sayre, Artists in Ohio, 1787-1900: A Biographical Dictionary, Kent State University Press, 2000.
Jones, Howard, "Personal Reminiscences." (August 17, 1931), Pickaway Quarterly (Spring 1970): 14-19.
Kiser, Joy, "America's Lady Audubon." Biblio, Volume 3, number 9, September 1998.
Kiser, Joy, "Ohio's Lady Audubon." Timeline, March/April 2000.
Rea, Gene, "Dr. Jones's Incredible Amateurs: Circleville Enthusiasts Produced a Work Rivaling Audubon's." Ohioana Quarterly 4 (Winter 1961-62): 98-100,119.
Rea, Gene, "Two Mysteries Still Remain." Ohioana Quarterly 5, (Spring 1962): 20-23.
Wessen, Ernest J., "Jones' Nests and Eggs of the Birds of Ohio," Publications of the Bibliographic Society of America, 47, 3rd quarter 1953, pages 218-230.