Nile Notes of a Howadji
American Travelers in Egypt, 1837 - 1903: An Introduction

by Martin R. Kalfatovic
Travel literature is an increasingly popular research tool for anthropologists, natural scientists, and social historians, as well as an informative and entertaining subject for the armchair traveler. The works displayed here focus on the American travel experience in Egypt, a popular destination for travelers from the time of Herodotus (ca. 420 B.C.). American travel accounts displayed a brashness and a paradoxical tendency to praise Egypt for being a fresh new travel destination while criticizing it for not being enough like home.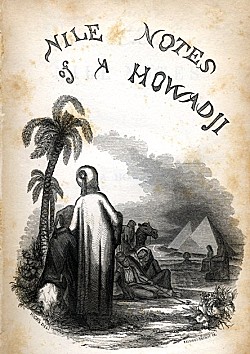 In the early nineteenth century a trip to Egypt and up the Nile aboard a native dhahabîyeh (large sailing craft) was reserved for only the most adventurous traveler, or howadji, a Turkish word originally meaning "merchant" or "shopkeeper." Howadji soon became a term applied by local inhabitants to all foreign travelers. In 1851, George William Curtis popularized the term in his travel account, Nile Notes of a Howadji, explaining it as "the universal name for traveler."
By the late 1860s, Thomas Cook & Son, a London travel agency, began offering Nile excursions on steamers and luxurious dhahabîyehs, reducing much of the hardship of earlier travel. These conveniences brought more American visitors to Egypt, ranging from noted public figures to Midwestern businessmen and their families. Soon, the exotic locales of Nubia and the oases of the Western Sahara Desert were offered as stops on the Grand Tour for American travelers.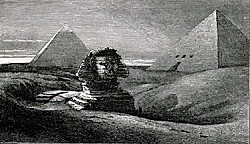 As the nineteenth century drew to a close, Egypt was regularly visited by Americans. Many years earlier, in an issue of The North American Review from 1839, Egypt was described by the anonymous reviewer of John Lloyd Stephens' Incidents of Travel in Egypt as
...a quarter of the world, where comparatively few [Americans] have travelled, but where we anticipate they will soon penetrate, with all their characteristic ardor and enterprise (p.184).
This online presentation brings together selected travel account by Americans who visited Egypt in the nineteenth century. Many of the volumes, or their authors, have special associations with the Smithsonian. Additionally, a sampling of guidebooks and handbooks to Egyptian antiquities are presented.