Learn More About the Nile & Egypt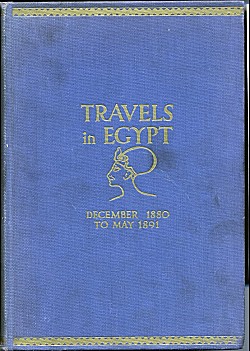 Additional Reading
Brooklyn Institute of Arts and Sciences. Museum. Catalogue of the Egyptological Library and Other Books from the Collection of the Late Charles Edwin Wilbour. Brooklyn, NY: Brooklyn Museum, 1924.
Clayton, Peter A., The Rediscovery of Ancient Egypt. New York: Thames and Hudson, 1982.
Dawson, Warren R. and Eric P. Uphill, Who Was Who in Egyptology. London: Egypt Exploration Society, 1995.
Fagan, Brian M., Rape of the Nile: Tomb Robbers, Tourists, and Archaeologists in Egypt. London: Scribner's, 1975.
Field, James A., Jr., From Gibralter to the Middle East: America and the Mediterranean World, 1776-1882. Chicago: Imprint Publications, 1991.
Foster, Charles. Travellers in the Near East. London: Astene, 2004.
Gunter, Ann C., A Collector's Journey: Charles Lang Freer and Egypt. Washington: Freer Gallery of Art, 2002.
Hobson, Christine, The World of the Pharaohs. New York: Thames and Hudson, 1987.
Ibrahim-Hilmy, Prince. The Literature of Egypt and the Soudan From the Earliest Time to the Year 1885 Inclusive. Mansfield, Conn.: Maurizio Martino, 1994 [reprint of 1886-88 London edition].
Kalfatovic, Martin R. Nile Notes of a Howadji: A Bibliography of Travelers' Tales from Egypt, from the Earliest Time to 1918. Metuchen, N.J.: Scarecrow Press, 1992
Pick, Christopher, Egypt: A Traveller's Anthology. London: John Murray, 1991.
Starkey, Paul and Janet, eds. Unfolding the Orient: Travellers in Egypt and the Near East. Reading, GBR: Ithaca Press, 2001.
Starkey, Paul and Nadia El Kholy, eds. Egypt Through the Eyes of Travellers. London: ASTENE, 2002.
Thomas, Nancy, and Gerry D. Scott III, and Bruce G. Trigger, The American Discovery of Ancient Egypt. Los Angeles and New York: Los Angeles Country Museum of Art and Harry N. Abrams, 1995.
Wilson, John A., Signs and Wonders Upon Pharaoh: A History of American Egyptology. Chicago: University of Chicago Press, 1964.
Suggested Online Sites